Henley Rugby Club Juniors spend an unforgettable day with Leicester Tigers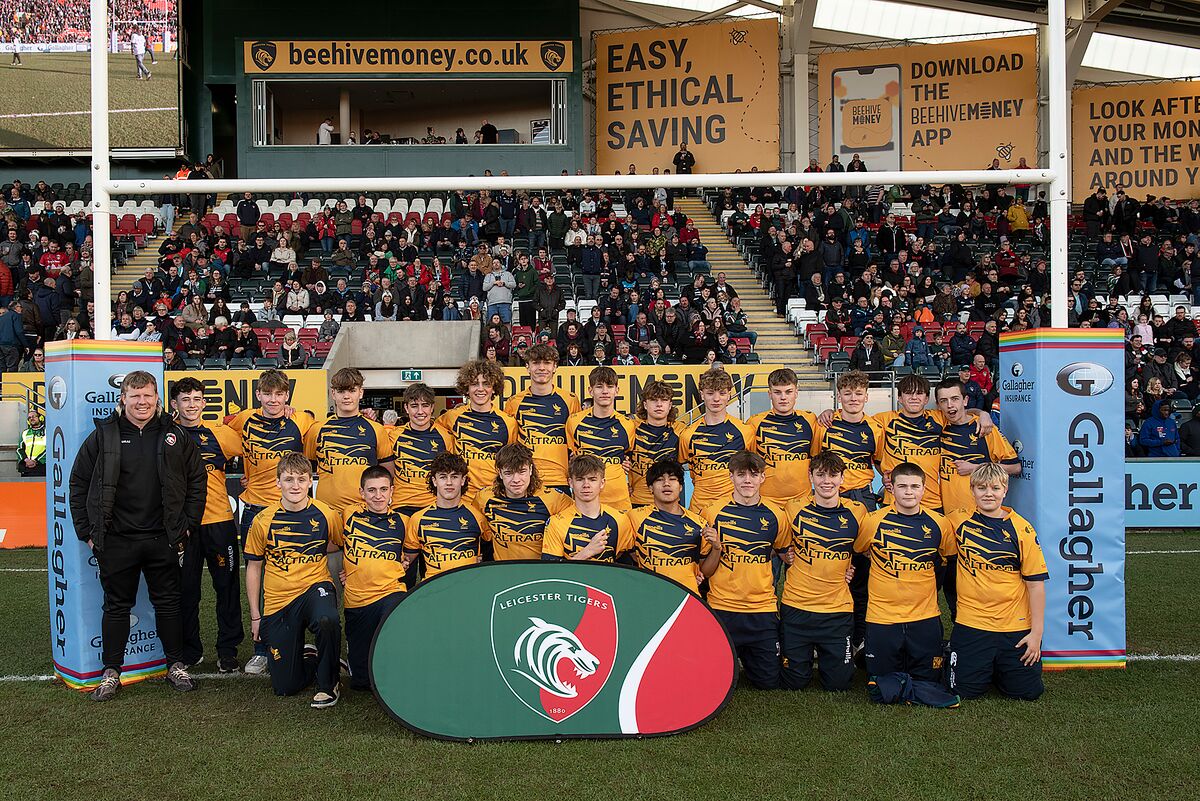 ALTRAD continued support of Henley Rugby Club, promoting the development of the next generation of players and the shared values of the Group and the Rugby, saw around 70 of the Henley Juniors enjoying a day out with rugby giants and reigning Premiership Champions, the Leicester Tigers.
The Leicester Tigers are one of the most successful rugby clubs in England, with a proud history dating back over a century. They have won multiple domestic and European titles, and their home stadium, Mattioli Woods Welford Road, is one of the most iconic grounds in the game.
Joined by Pascal Gaüzere, ALTRAD Group Director of CSR, The day started early for the Henley Rugby Club members, who made their way to Oval Park, (Tigers training facility) in the morning to tread the same path that hundreds of internationals have: Freddie Steward, Jack Van Poortvliet, George Martin, Dan Kelly and Joe Heyes being just a few of the current crop of talented youngsters within the Tigers ranks.
Upon arrival, they were welcomed by the Leicester Tigers staff who gave them a tour of the facility, followed by a coaching session for the juniors.
Running concurrently, the Club put on a coaching masterclass for the Henley coaches in attendance, explaining how Tigers' famous coaching methods are applied in real life, whilst also being on hand to help Henley's coaches upskill themselves.
First team player Hosea Saumaki also dropped by to say hi to the squad ahead of that afternoon's match.
Following the session, the team made their way down to the stadium and watched the game which turned out to be a rerun of last season's final versus Saracens rugby club.
After a dominant first half by the Tigers, the Henley team was welcomed on to the pitch at half-time for a unique photo opportunity on the pitch, followed by a nail biting second half where the Leicester Tigers came out on top, winning by a narrow margin, in a close-fought battle that kept the crowd on the edge of their seats until the final whistle.
Overall, the day out at Leicester Tigers was a huge success for Henley Rugby Club. It gave the members a chance to experience the excitement of professional rugby, see one of the best teams in the world in action, and bond as a club. It was also a great opportunity for Henley to strengthen its relationship with the Leicester Tigers and build connections that could establish player pathways from amateur to the Professional Game in the future.